---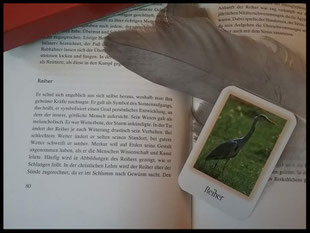 Krafttier "Reiher": Wir fanden beim Waldspaziergang einige Reiher Federn und sahen letztlich auch einen über unsere Köpfe hinweg fliegen.
Doch wofür steht so ein Reiher eigentlich? Wir haben für euch in verschiedenen Quellen nachgeforscht:

1.) Buch siehe Bild: "Das Vogelorakel - Die Botschaft der Vögel als praktische Lebenshilfe" von Harald Knauss

2.) Brunoschneider.ch:

FISCHREIHER: Selbstachtung, Erforschen, Selbstvertrauen, Alle Aspekte der Vielfalt, Würde, Grenzen, Geduld und Gelassenheit in schwierigen Lebenssituationen, Ausgleich verschiedener Ansprüche, stellt die Verbindung zwischen der individuellen psychischen Ebene eines Menschen und der feinstofflichen, energetischen Verbindung zwischen allen Seelen her (kollektive Unbewusste)
http://www.brunoschneider.ch/Schamanismus/Keltisch%20Krafttier%202.html

3.) spirit-animals.com:

If Heron has come wading across your path;
It is time to look deeper into aspects of your life that will bring out innate wisdom and show you how to become self-reliant. Are you grounding yourself regularly? Heron teaches that grounding yourself in the earth and your spiritual beliefs will help you discover emotional insights more clearly and more quickly.

Alternatively he could be teaching you how how to become comfortable in uncertain situations and to be watchful of opportunities to arise so that you can quickly grasp them and move on.